Spray Elastomers and Coatings
Eteco, Inc. polyurethane elastomers, polyurea elastomers and coatings are formulated to the highest standards providing VOC free, low cost, high performance, superior protection, chemical resistance, water proofing, excellent abrasion and impact resistance.
Our spray elastomers and coatings are used in applications such as truck bed liners, tank coatings, waterproof liners, secondary containments liners, architectural coatings, floor joint sealants, pipeline coatings, railcar coating, fire resistant coatings and many others. Our spray elastomers are formulated as polyurea ("SPL T" Series), polyurea-polyurethane hybrids and pure polyurethane ("SPL H" and "SPL HT" Series).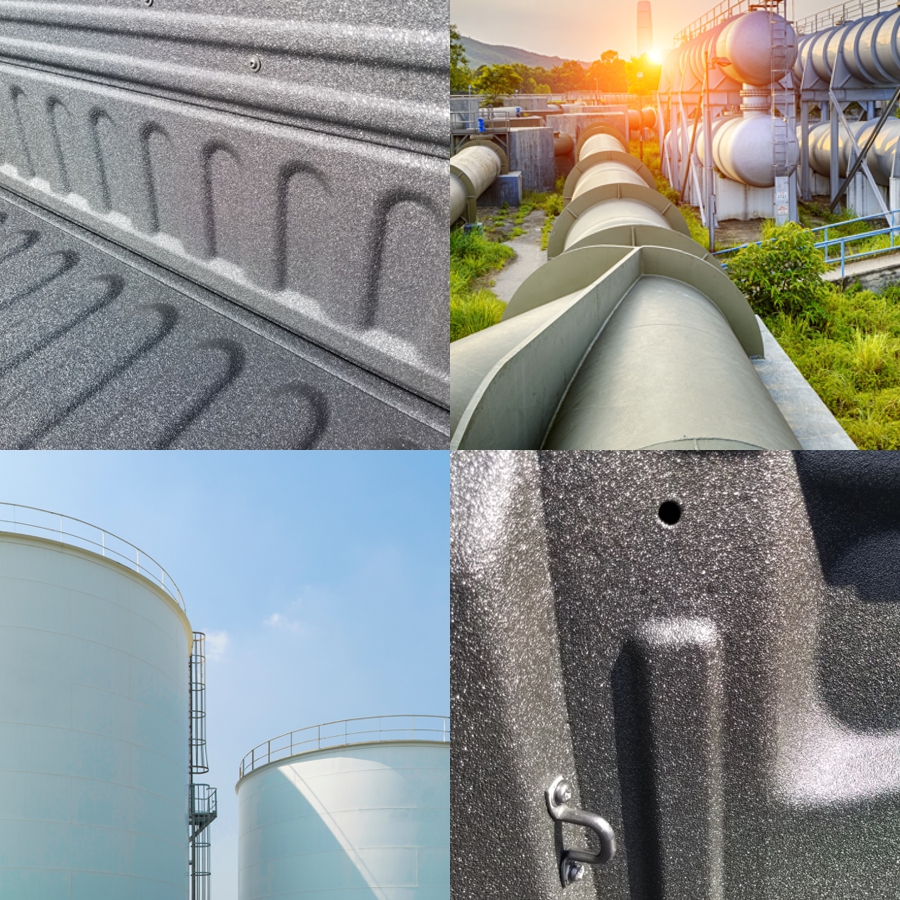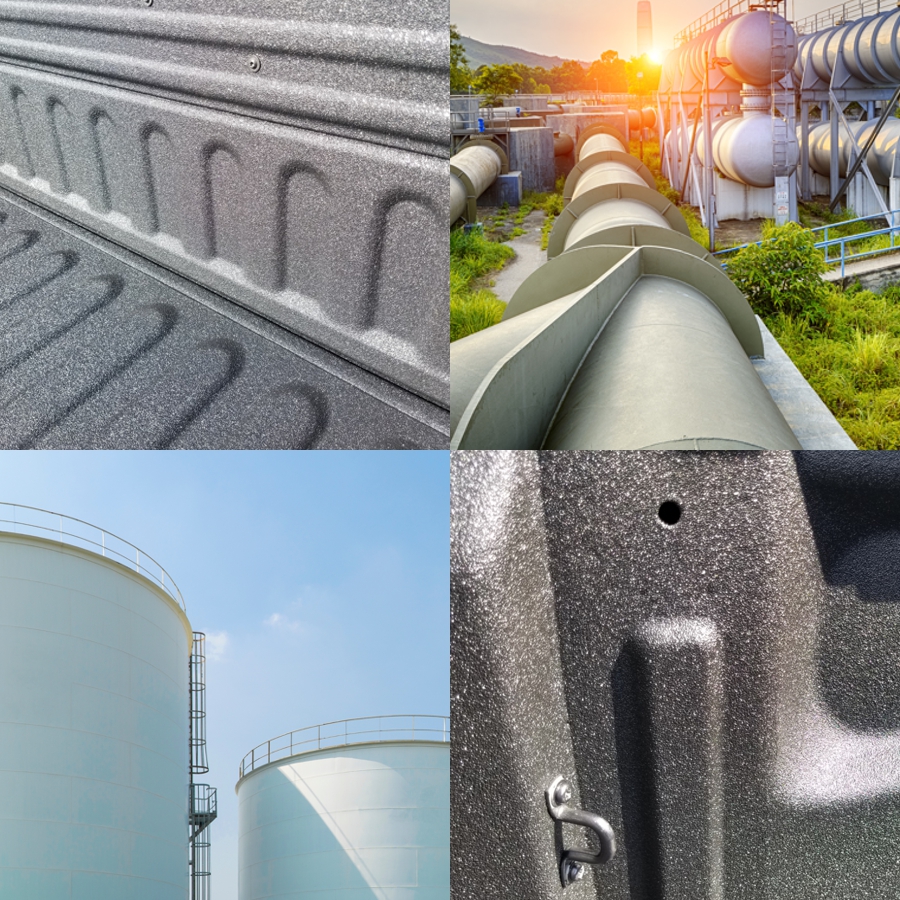 | Product | Hardness | Tensile Strength (psi) | Elongation (%) | Tear Strength (pli) | Gel Time | Color | Application |
| --- | --- | --- | --- | --- | --- | --- | --- |
| | 70D | 5500 | 10 | N/A | 15 sec. | Tan | Class I ASTM E84, Hard Coat |
| | 50D | 2400 | 210 | 440 | 15 sec. | Tan | Hard Coat |
| | 65D | 5500 | 20 | N/A | 15 sec. | Tan | Hard Coat |
| | 55D | 2000 | 50 | 150 | 25 sec. | Gray | Man Hole Liner |
| | N/A | 25 | 90 | 10 | N/A | Natural | Insulation |
| | 50D | 2200 | 220 | 280 | 9 sec. | Black | Bed Liner |
| | 45D | 3300 | 300 | 310 | 6 sec. | Natural | Hard Coat |
| | 65D | 5200 | 70 | 180 | 11 sec. | Off White | Hard Coat |
| | 72D | 3300 | 40 | 280 | 6 sec. | Natural | Hard Coat |
| | 70D | 6800 | 5 | N/A | 45 sec. | Natural/Black | Class I ASTM E84, Hard Coat |
| | 70D | 6800 | 5 | N/A | 30 sec. | Tan | Hard Coat |
| | 87A | 1800 | 250 | 170 | 6 sec. | Natural/Black | Hard Coat |
| | 87A | 1800 | 250 | 170 | 6 sec. | Natural/Black | Hard Coat |
| | 55D | 2000 | 50 | 150 | 10 sec. | Gray | Hard Coat |
| | 68A | 2350 | 215 | 330 | 9 sec. | Natural | Hard Coat |
| | 85A | 3000 | 580 | 340 | 6 sec. | Gray | Hard Coat |
| | 45D | 3200 | 620 | 380 | 15 sec. | Natural | Hard Coat |
| | 45D | 2800 | 620 | 380 | 6 sec. | Black | Hard Coat |
| | 60D | 5200 | 320 | 680 | 8 sec. | Natural | Hard Coat |
| | 48D | 6100 | 350 | 440 | 3 sec. | Natural | Hard Coat |
| | 60D | 3400 | 150 | 480 | 3 sec. | Black | Hard Coat |
| | 78A | 1700 | 650 | 150 | 8 sec. | Natural | Hard Coat |
| | 75A | 2400 | 760 | 270 | 8 sec. | Natural | Hard Coat |
| | 75A | 2400 | 760 | 270 | 8 sec. | Natural | Class I ASTM E84, Hard Coat |
| | 50A | 2000 | 760 | 220 | 8 sec. | Natural | Hard Coat |
| | 80A | 2500 | 780 | 320 | 8 sec. | Natural | Hard Coat |